How many days until Day of the Dead?
The Day of the Dead (Spanish: Día de Muertos) is a Mexican holiday celebrated throughout Mexico, in particular the Central and South regions, and by people of Mexican heritage elsewhere. The multi-day holiday involves family and friends gathering to pray for and remember friends and family members who have died and help support their spiritual journey. In Mexican culture, death is viewed as a natural part of the human cycle. Mexicans view it not as a day of sadness but as a day of celebration because their loved ones awake and celebrate with them.
The holiday is sometimes called Día de los Muertos in Anglophone countries, a back-translation of its original Mexican name, Día de Muertos. It is particularly celebrated in Mexico, where the Day is a public holiday. Prior to Spanish colonization in the 16th century, the celebration took place at the beginning of summer. Gradually, it was associated with October 31, November 1, and November 2 to coincide with the Western Christian triduum of Allhallowtide: All Saints' Eve, All Saints' Day, and All Souls' Day.
In many U.S. communities with Mexican residents, Day of the Dead celebrations are very similar to those held in Mexico. In some of these communities, in states such as Texas, New Mexico, and Arizona, the celebrations tend to be mostly traditional. The All Souls Procession has been an annual Tucson, Arizona, event since 1990. The event combines elements of traditional Day of the Dead celebrations with those of pagan harvest festivals. People wearing masks carry signs honoring the dead and an urn in which people can place slips of paper with prayers on them to be burned.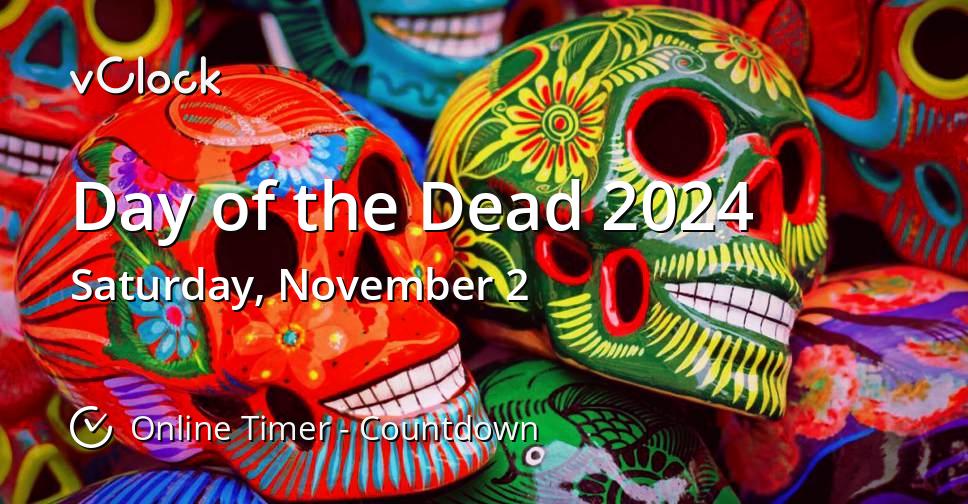 | | |
| --- | --- |
| Day of the Dead 2023 | Nov 2, 2023 |
| Day of the Dead 2024 | Nov 2, 2024 |
| Day of the Dead 2025 | Nov 2, 2025 |
| Day of the Dead 2026 | Nov 2, 2026 |
| Day of the Dead 2027 | Nov 2, 2027 |
| Day of the Dead 2028 | Nov 2, 2028 |
| Day of the Dead 2029 | Nov 2, 2029 |
| Day of the Dead 2030 | Nov 2, 2030 |
| Day of the Dead 2031 | Nov 2, 2031 |
| Day of the Dead 2032 | Nov 2, 2032 |